Brad's debut release "Self"
from WWoBn Records

"Self" Brad Nietfeldt
price: $5.99 - SOLD OUT

Instant download available. Over 10,000 sold. Produced by Chuck Beckler and distributed by WWoBn Records Group.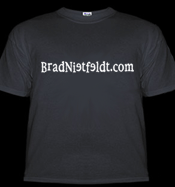 "Brad Rocks, Do You?" T-Shirt
price: $15.00 SOLD OUT
+ $5.00 Shipping & Handling

This T-shirt comes in small, medium, large, x-large, and xx-large sizes. the most comfortable t-shirt ever! our 100% cotton shirts are preshrunk, durable and guaranteed.